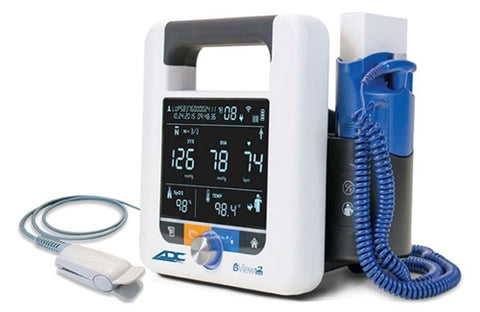 ADC Adview 2 Diagnostic Stations # 9005BPSMTO - Blood Pressure (BP) Unit, SpO2 and Temperature Module, Masimo Set, Rechargeable Battery
Box of 1
$4,017.99 CAD

$4,017.99 CAD
---
---
ncludes:
Rechargeable lithium-ion battery
U.S. power cord
10-foot length of tubing
Adult Plus and Large Adult Plus cuffs
Mini-USB to USB cable
Quick Start Guide
Quick Reference Guide
Adult finger sensor and 8-foot extension cable
Oral/axillary probe and well (blue) and box of 20 probe covers
Features:
Clinical-grade Advantage™ BP technology from SunTech Medical
Contemporary, compact design with an integrated handle and easy-to-read display
Manual blood pressure mode for real-time verification
Customizable average mode options
Next-generation EMR ready with HL7 messaging for electronic data transfer
Network enabled with built-in Ethernet or optional Wi-Fi
Lithium-ion power for longer-lasting battery life and a lighter weight
Built-in memory with up to 99 charting sessions
New Pediatric Mode to ensure accurate measurements for younger patients
Firmware upgradeable
The ADView 2 is still the only truly modular diagnostic station that grows with your needs. We'll ship your ADView 2 fully configured and ready to go. User-expandable, connect-and-go construction makes upgrading effortless.
It All Begins with Blood Pressure
The ADC ADView 2 easily captures automated blood pressure measurements at the touch of a button. Non-invasive blood pressure base unit module uses the oscillometric method, with both pulse rate and the mean arterial blood pressure (MAP*) displayed in about 30 seconds. With seven available cuff sizes, ranging from child to thigh, the ADView 2 can be used for patients ages three and older. Adult Plus and Large Adult Plus cuffs come standard.
---
We Also Recommend